Top-Rated Roof Washing in Orange Park
Professional, high-quality roof cleaning in Orange Park, FL, is one of the most important things you can do to care for and protect your roof from damage, deterioration, and failure. At J & L Power Washing, we specialize in advanced roof washing in Orange Park, FL, that is safe and effective. We provide you with roof cleaning services that help save you time and money on costly roof repairs and replacements
Searching for Orange Park Roof Cleaning Near Me?
Your roof is the largest investment you'll make in your home, and you count on it to provide shelter and safety for decades. However, most roofing companies won't tell you is for that to be true, it requires professional, regular roof cleaning and maintenance to remain clean, safe, and damage-free. Our premium soft wash roof washing services in Orange Park, FL, are so important, your roofing warranty and homeowner's insurance company may even require them. Before you search for Orange Park roof cleaning near me, it is important to understand that roof washing in Orange Park, FL, is more than just power washing or cleaning your roof shingles with high-pressure cleaners. Roof cleaning in Orange Park, FL, is a complex job and it requires an experienced team of soft washing professionals equipped with the proper tools, products, and experience.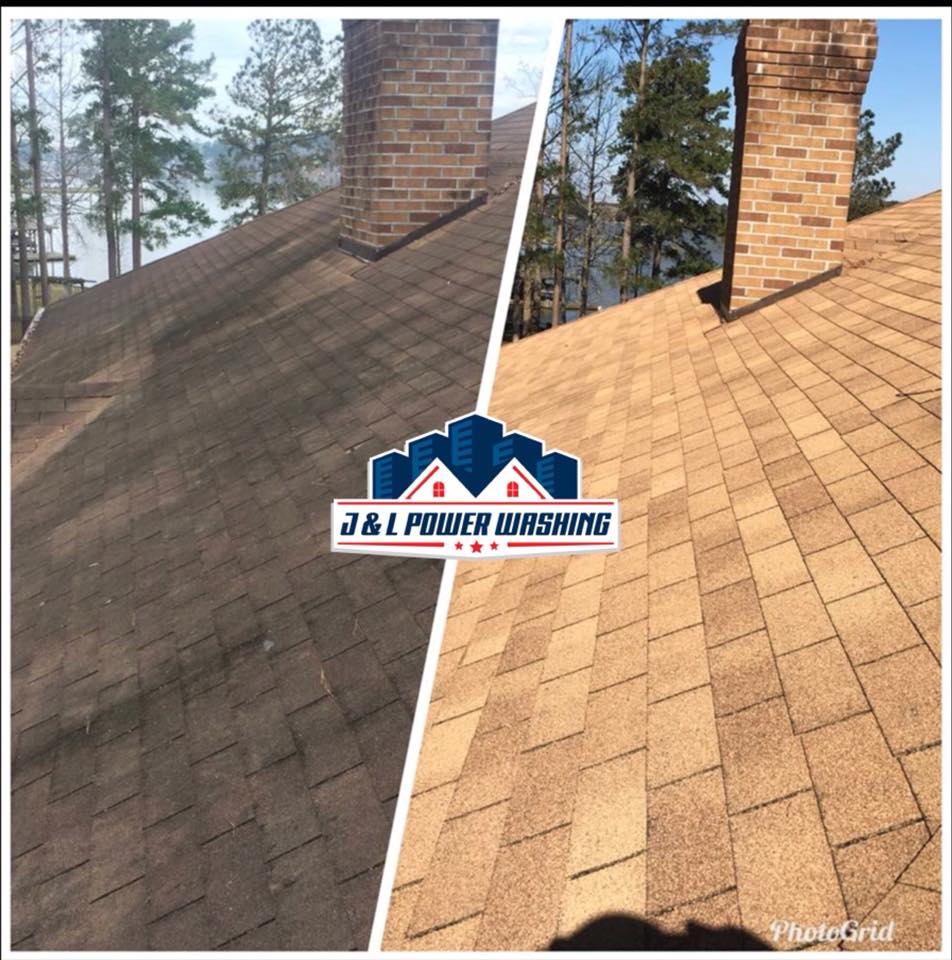 Expert Roof Washing Orange Park FL Residents Trust
At J & L Power Washing, we offer the most advanced and effective professional roof washing services in Orange Park, FL. The climate in Clay County creates a breeding ground on your roof for moss, algae, and lichen. Not only do these organic materials lead to black streaking and staining that is unsightly, but they eat away at the limestone and ceramic granules that make up your shingles, opening cracks and causing the shingles to bulge, further exposing your roof to the elements. This can result in water damage, mold growth, poor air quality, and decreased energy efficiency, including higher temperatures. Professional roof cleaning in Orange Park, FL, is the only way to safely remove moss, mold, mildew, and algae and to help slow and prevent their future growth.
Our roof cleaning in Orange Park, FL, includes the use of 100% environmentally safe and biodegradable cleaners to dissolve and eliminate all the organic material growth on your roof. Our soft wash roof washing allows us to use low pressure to gently rinse away years of caked-on dirt, debris, stains, pollen, insects, bird droppings, and more. This gentle pressure makes it possible to clean and sanitize safely around the most delicate roofing areas without water entering your home or damage to your shingles. We are confident that our signature roof washing in Orange Park, FL, is the safest, most effective roof cleaning service available.
Call Today for Roof Washing & Roof Cleaning in Orange Park, FL!
For more information about our top-rated soft wash roof cleaning in Orange Park, FL, call or visit J & L Power Washing today! We recommend professional roof washing every 2-3 years, and our technicians are happy to answer all of your questions and schedule a free estimate on your roof washing project. Let J & L Power Washing take the time and stress out of caring for your home with our full menu of exterior home cleaning services! We look forward to providing you with our roof cleaning Orange Park FL or roof washing Orange Park FL services!