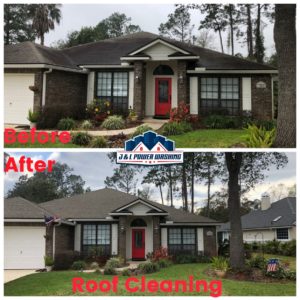 With the amount of rainfall and humidity that we receive in Fleming Island, Green Cove Springs, Orange Park and surrounding areas of Florida, we have a breeding ground of algae and mold for outdoor surfaces. In this article we will talk about how to safely remove roof algae, and the benefits of having a clean roof.
Benefits of Keeping Your Roof Clean
You Stay Healthy. Roofs provide the conditions mold, and fungi need for growth, namely heat from the sun, water from the atmosphere, and poor ventilation near the surface of the roof if it is covered with dirt and debris. Unchecked, mold and fungi can grow and release spores that can enter your house, populate your HVAC system, and present a potential health hazard to you and your family.
You Save on Energy Bills. A clean surface reflects a large portion of the light that falls on it. That means you can save money on air conditioning during the summer. In contrast, a dirty surface absorbs electromagnetic waves (light), heats up, forces your AC to work harder, and increases your energy bill.
Cleanliness Prolongs the Life of Your Roof. Moss, algae, bacteria, lichen, and mold grow at the cost of your roof. These infestations cause premature breakdown of most roofing systems. Especially asphalt shingles, the most common roof installed in our area.
You Don't Have to Worry about Pests. Pests, especially birds, vermin, and raccoons are attracted to roofs and building exteriors. When they find it covered with leaves, branches, and other debris, they often decide to make it their permanent home and location for breeding.
Ensure insurance compliance
Most insurance companies will impose a fine if your roof is not professionally maintained – and some will even cancel your policy. Check out this New Interview of a homeowner being threatened form their insurance companies to cancel their policy due to roof staining.  https://www.youtube.com/watch?v=oPSY5wVZXas&t=116s
How Not to Clean Your Roof
Based on these facts, maintaining your roof should be a priority. It protects the property value, looks great and even has health advantages. The next question that needs to be answered is: How should you go about that?
Before making a case for non-pressure cleaning services and Soft Wash Roof Cleaning, let's look at some of the alternatives.
Do Not Use Pressure. The single biggest mistake besides not addressing their roof algae early, is hiring a company that uses a pressure washer to clean roofs.  Cleaning contractors for years have depended on pressure washers to perform their work. While pressure washing machines will always have value for exterior cleaning, your roof is no place for cleaning with pressure. While they may have compelling arguments for their approach to cleaning roofs, the facts are, pressure washing causes irreversible damage to roofs from granular loss to the shingle, and water intrusion into attics and behind walls. . That's why roofing manufacturers consistently warn against the use of pressure to clean their products.
Big box store chemicals. It sounds so easy, just 'spray it on and forget about it.' Consistent complaints and lack of results after repeated applications are the norms. The various products on the market suggest 'rinsing' the product off with a pressure washer… obviously what the homeowner is trying to avoid. One common product advises discontinuing use after a year if no results are achieved. The simple fact is that the various products sold to homeowners are not easy to use and are ineffective, even after months of applications.
Roofers, Window cleaners, and handymen. Roofers may be very qualified and experienced. A roofer knows as much about professional roof cleaning as a mechanic. Window cleaners and handymen may have years of experience and be very good at what they do. Professional Roof Cleaning  however, is a very specialized and dangerous job. It is not a simple add-on that can be completed by the inexperienced. They also most definitely do not have the proper insurance to clean roofs.
With three popular approaches for roof cleaning methods rejected for health risk, poor efficiency, and damage risk, is there an alternative left? Yes, and that brings us to the safest, most efficient method to keep your roof looking and functioning awesome, non-pressure, soft-wash roof cleaning.
Shingle Manufacturers Only Approve of Soft-Wash Roof Cleaning
Soft wash roof cleaning does not use high pressure to apply the cleaning detergent or to rinse the roof. The chemicals used in soft-wash roof cleaning have and are highly effective and produce immediate results that last for years. To put the icing on the cake, soft-wash roof cleaning conforms to the manufacturer's guidelines for proper cleaning procedures.
If you are considering having your roof cleaned and restored. Look for a professional non-pressure, Soft Wash Cleaning Contractor. Ask to see photos of the work they have completed as well as references of satisfied customers and most importantly a General Liability Insurance COI and Workers Compensation Insurances.  Nobody plans on employees getting hurt on the job, or damaging property, but hiring a company that has the proper coverages, will keep the homeowner from being liable for those things.
This is a quick video from our You Tube Channel that shows the basic application methods and results of a roof that we Soft Washed for a customer.  https://www.youtube.com/watch?v=yzH1Mw8K-So
J & L Power Washing is the premiere Soft Wash Roof Cleaning Provider, servicing Fleming Island, Green Cove Springs, Orange Park, Lake Asbury, Middleburg, Fruit Cove, and surrounding areas.  We proudly have hundreds of 5 Star Reviews on multiple social platforms, and have safely and effectively Soft Washed thousands of roofs for local homeowners, businesses, HOA's, churches, and apartment complexes.
We consistently deliver amazing results with courteous, friendly and professional customer service.  Plus, we always strive to perform our duties with absolute minimal interruption to your daily routine.
Schedule a Free Estimate