Get Your Mind Into the Gutter
For many homeowners, cleaning a gutter is as much fun as getting a shot at the doctor. Worse yet, this chore is extremely dangerous. Every year, about 500,000 people suffer ladder-related injuries.
No worries, you can hire the experts at J&L Power Washing to make your gutters spotless. In no time, they'll be in perfect working order.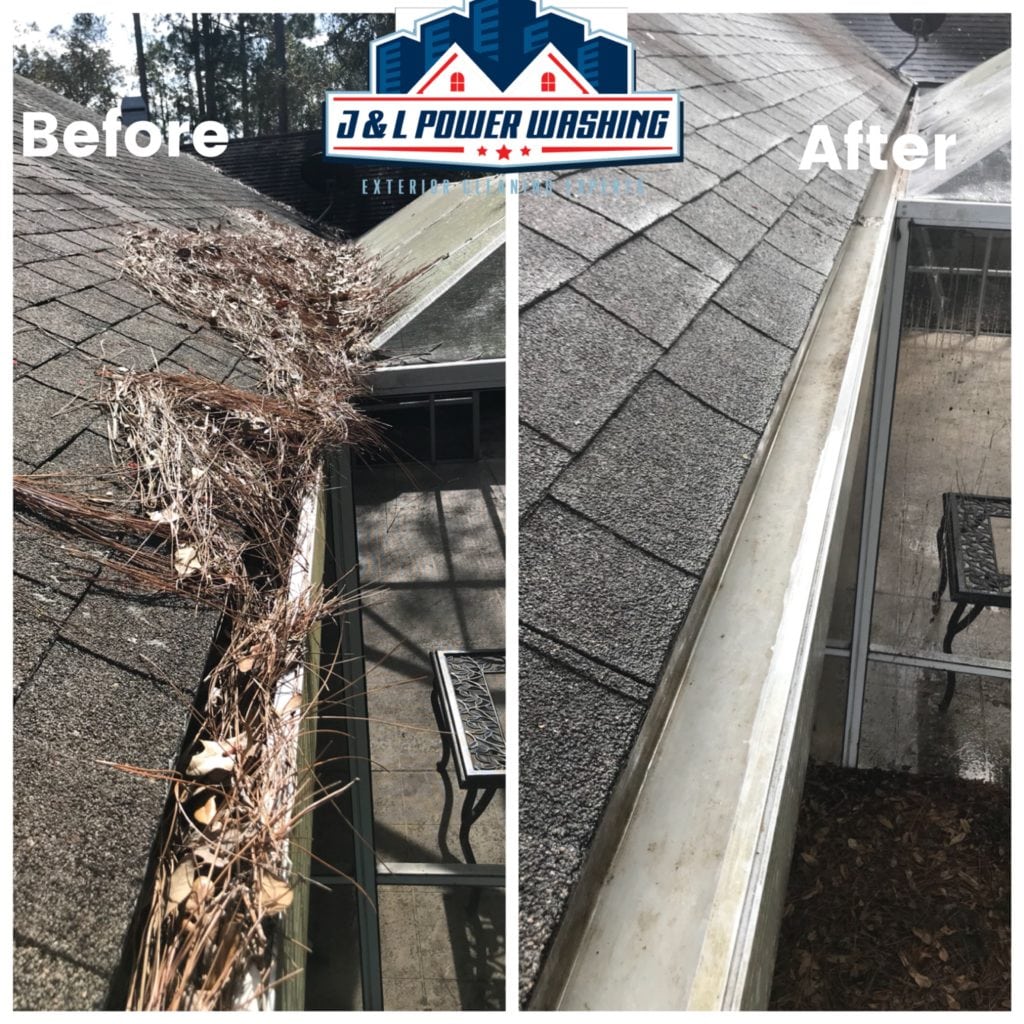 Why Gutter Maintenance?
Leaves and other materials gather in your gutters. If you don't clean them out regularly, water will not flow through the gutters correctly, leading to exterior and interior water damage. Also, your roof could start to leak, causing costly roof and siding repairs.
Rodents, snakes, and insects could see all the sticks and leaves inside your gutter and think it's a furnished luxury apartment. Once they settle down in there, those pests might hunt for food inside your home.
To avoid such issues, clean, rinse and flush your gutters at least two or three times per year. Even if you have covered gutters, they should be cleaned once every few years — and maybe even once a year, depending on the surrounding landscaping.
With Florida's year-round rainy weather, your gutters need to be kept clean year round. That means year round, is prime gutter-cleaning seasons. Of course, during certain seasonal periods, leaves, twigs, berries, pine needles and other debris fall in large numbers.
How We Clean Your Gutters
We start the gutter cleaning process by setting and securing a ladder with a stabilizer, on the ground.  Then we clean the gutters and bag the debris to remove it off-site, and make sure that your gutters are clean and clear for proper flow.
Then we will inspect and flush the downpours to make sure they are flowing, and that the water is flowing away from the house correctly.
So when it comes to your Gutter Cleaning Service, look to the experts at J&L Power Washing for your Gutter Cleaning Maintenance Service. We will show up on time, answer your questions and clean your gutters thoroughly and efficiently. Afterward, you'll enjoy peace of mind and sparkling gutters, free of pests and debris.